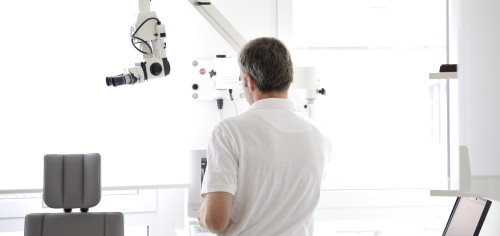 ENT Diagnostics and Therapy /
General ENT Services Munich
ENT Diagnostics Munich
We base our treatments on consolidated diagnostics. The most modern investigative methods are a matter of course for us. We offer all subjective and objective methods in the field of hearing and balance testing. Endoscopy is among our routine investigations. Using special optical instruments, we can gain an "inner view" of the nose, sinuses, pharynx, larynx, and middle ear by. In addition, we perform ultrasound scans of the sinuses, head, and neck soft tissues, as well as duplex sonography of the head and neck vessels. The latter enables early diagnosis of vascular flow disturbances, which can be of importance in our field in cases of hearing or balance disorders. Allergologic diagnostics include skin prick tests and allergy blood tests for allergens circulating in the blood (RAST).
ENT Therapy Munich
Results of the diagnostic investigations lead to treatment based on two therapy pillars. Firstly, there is treatment conforming to guidelines as per evidence-based knowledge. Secondly, treatment based on proven concepts from experience and natural medicine (acupuncture, lymphology, oxygen multi-step therapy, infusion therapy), as well as highly innovative, scientific evidence-based methods (UV therapy for hearing disorders, phototherapy to treat allergies and chronic sinusitis, individualized autoimmune therapy). The patient receives an individualized treatment plan developed from these therapeutic methods. For example, a treatment plan for chronic sinusitis could be comprised of initial local medicinal therapy combined with anti-allergic measures, then followed by periodic endonasal UVA-UVB light therapy with lymphologic triggering. We have also had good experiences with treatment of tinnitus by combining the multi-step oxygen therapy from von Ardenne with infusion programs and UVA-UVB exposure.
Children's ENT Munich
Children benefit from the same diagnostic and therapeutic options as offered in adult ENT. However, these are adapted to fit within the scope of the special needs of a child. Pediatric ENT is not a miniaturized adult ENT. Frequently, less is more. From my experience as a physician and father of two children – children are wonderful patients. One must take them seriously and listen to them attentively then you can get all the information you need. Even if the child does not understand everything that happens, once we establish trust with them, they follow the right path with perseverance. Indeed, they do so in a safer manner and with more determination than most adult patients. This is the secret of therapeutic success: a small part is due to medical expertise, the greater part relies on the collaboration of the patient. With children, this cooperation is incomparably good.